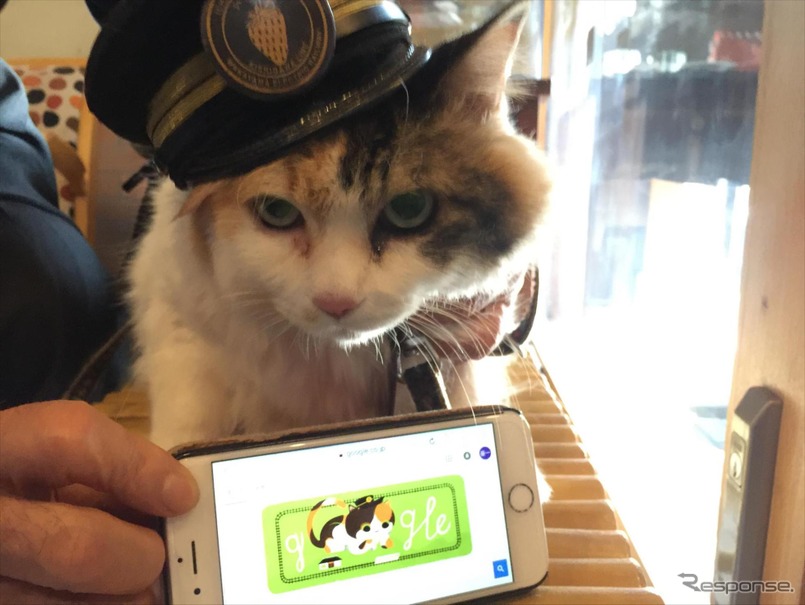 "Tama" of the cat station chief who became a honorable permanent station chief with outstanding achievement in attracting customers of Wakayama Electric Railway (Iron = old letter) finally jumped out to the world. It was Google Doodle (Google Doodle), a special memorial logo on Google Japan's top page.

The special memorial logo is only for the 1st of April 29th. The usual Google logo mark changes to a design named after the anniversary. The memorial logo of the Tama Temple station general, the design of the "o" of Google is rounded by the tail of the head of the Tama Station surrounded by the orbit. Many are world-famous celebrities and anniversaries themselves, but the local line in Wakayama prefecture, its cat station railway station was designed brilliantly.

Moreover, it will be delivered to 12 countries, Cuba, Estonia, Iceland, Lithuania, Portugal, Russia, Serbia, Singapore, Taiwan, Ukraine, Belarus.

Wakayama Electric Railway's line of business is only one Kishikawa line. Municipalities purchased local lines that were suffering from the distress of the waste line, and Okayama Electric orbit, which decided to local enthusiasm, was the administrator, establishing Wakayama Electric Railway. It was Tama Station manager who became the station manager at that Kishi station, and contributed to the recognition of the nationwide district and increasing the number of passengers. It is said that it was realized by overcoming over a year with a feeling that he wanted a little fun feeling when the user searched for the cat pattern which is not the character of this Tama station manager.

On the 29th of the day on Google's posting day, "Nitama station manager" who became incumbent appeared after the death of the former station manager, and the occasional honorable permanent station manager's birthday event was also held at Kishida station premises. Nitama station manager dedicated birthday cake to Tama Shrine after birthday event. I made a safety prayer and announced like this.

"As a result of becoming an elementary school first grade, if you would like to feel public transport near you, you will receive a free passport that you can use on Saturdays, Sundays, and public holidays to create new 1 to attend elementary school located in Wakayama city and Kiiokawa city I will distribute it to all the students. " <A This is the president of Masayoshi Kojima, who is not the station manager, "Watayama Electric Railroad" "Honmono" president. Three first grade primary students received a free pass as a representative. New graders in Wakayama City and Kinkawa City are 3498 students in all 77 schools. Free passes are distributed throughout the school to all of this new first grader.